A few years back, during Roy Bjellquist's Breakaway: 2019 event, our event planner's Robert Wood and Warren Friedrich announced their intention to host the next Space: 1999 fan event in London, England for 2021. It was to be called Destination: Moonbase Alpha. There was a lot of ground-work already covered, with a website and hotel in place and ready to go. Little did they know the world was about to change dramatically a few short months later! Plans inevitably had to be altered a couple of times to adapt to new restrictions in place, and the overall health & safety of guests and attendees was the primary concern.
New Virtual Coordinates
During this time, efforts were focused towards something new and different – LIVE virtual events which presented fans from all over the world an opportunity to tune in and interact with their favorite stars and celebrities. Through these two events, held in September of 2021 and 2022, we raised a staggering £1750.00 for Alzheimer's Research, in memory of series co-creator Gerry Anderson. There were over 40 guest speakers arranged for people to enjoy, with news on upcoming merchandise, fan-based events and of course many of the personalities from the show! These included rare appearances from several guest-stars including Julian Glover & Isla Blair, Gianni Garko, Carla Romanelli, Sam Dastor, Nick Brimble, Seretta Wilson and Kathryn Leigh Scott. Also, series writers Christopher Penfold and John Goldsmith plus director Kevin Connor. In addition, the events featured first-time appearances from Hayward Morse, son of Barry and Christien Anholt, son of Tony. They were both so very gracious to come on and meet the fans!

Lunar Exploration Mission To Canada
As sights were set towards 2024, and the approaching 50th Anniversary dates, it was decided a re-branding was in order. A small in-person event was held in Calgary, Alberta, Canada in April of 2023. Calgary: 1999 was a 'relax-a-con' like no other. Featuring a rare appearance by the original 44″ Eagle 3 filming model, an original 11″ Eagle and many other cherished items including Keith Wilson artwork, set-pieces and scripts. (Thanks to Darren Peters, David Hirsch & Robert Wood)
Joining the fun were special guests Nick Tate, Yasuko Nagazumi & filmmaker Jeffrey Morris for this remarkable weekend where trips were made to the surrounding area including Vulcan, Drumheller and scenic Banff, Alberta.
Over the years, a number of raffles and giveaways to existing ticket holders were held, including original Brian Johnson storyboards, a production-used script and an original Main Mission X-5 computer panel!! Also, one of the ultra-rare Anderson Entertainment Technical Manuals – Special Briefcase Edition. Congratulations to Anita Frackenpohl, David Watts, Dave Thomas and Andrew Naisch!!
The Future Is the Past – 50 Years & London
Thank you to ALL supporters and contributors down through the years, as things finally gear up for meeting in LONDON next year to celebrate this historic anniversary. It's been a long reconnaissance mission, but worth every moment. You won't want to miss out…there are some VERY special things in development!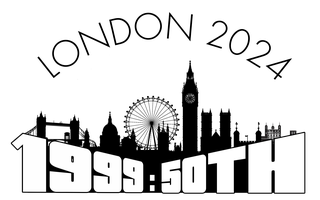 Return To Moonbase Alpha!